About the Artist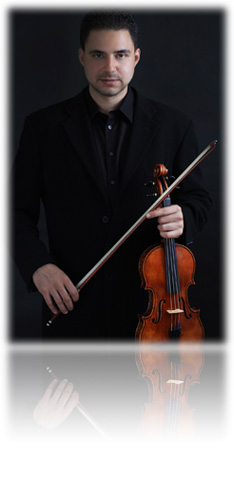 Since making his solo orchestral debut at 14 in Dallas' Meyerson Symphony Center, Radu's musical talents have continued to garner critical acclaim and recognition. Das Orchester in Germany called his performance "brilliant" and "flawless" and described his interpretation as "daring and full of fiery temperament…with a strong sense of purpose." Lauded by the Santa Barbara Independent, Radu is described as "astonishing," and the Los Angeles Times commended him for his "firm tone" and "technical proficiency and musical resolve."
Radu has appeared as a soloist with numerous orchestras and ensembles worldwide. He has been a featured chamber musician on New York's classical music radio station WQXR and has appeared in recital and as chamber and orchestral musician in countless concerts across the United States, Europe, and Asia. As a resident of Los Angeles, his performances have been heard live on radio in recital on the Sunday's Live series broadcast from the LA County Museum of Art and as a soloist at the Dorothy Chandler Pavilion. Radu has collaborated on many occasions with UCLA faculty on their Faculty Chamber Music Series and served as guest artist faculty of the Beverly Hills Chamber Music Festival.
Since first appearing on Los Angeles' music scene in 2005, Radu has performed regularly with the LA Opera, LA Philharmonic, New West Symphony, and the Hollywood Bowl Orchestra where he currently holds a position as first violinist and often sits in as acting Associate Concertmaster. Radu is currently active as a recording musician in the Los Angeles studios and has recorded on the soundtracks of major motion pictures too numerous to list. Although his background is rooted in classical music, he has also recorded and performed with some of the world's most influential artists in a wide variety of genres including rock, pop, country, hip-hop, jazz and everything in between.
Radu acquired his musical education at the Juilliard School where he received a Bachelor of Music degree, after which he was awarded a Fulbright Scholarship to continue his studies with renowned violin pedagogue Zakhar Bron at the conservatory in Cologne, Germany where he received a Diploma in Music Performance. He then went on to receive a Master of Music degree from UCLA while there on a full scholarship. Born in Romania he moved to the United States with his family when he was 2 and began his violin studies at the age of 6. His other most notable teachers include Robert Mann, Alexander Treger, Mark Kaplan, Ronald Neal, and Masao Kawasaki. Radu is also an active teacher and coach and has given masterclasses abroad.